Club News
Article Published in Wymondham Magazine, Issue 17

September 2018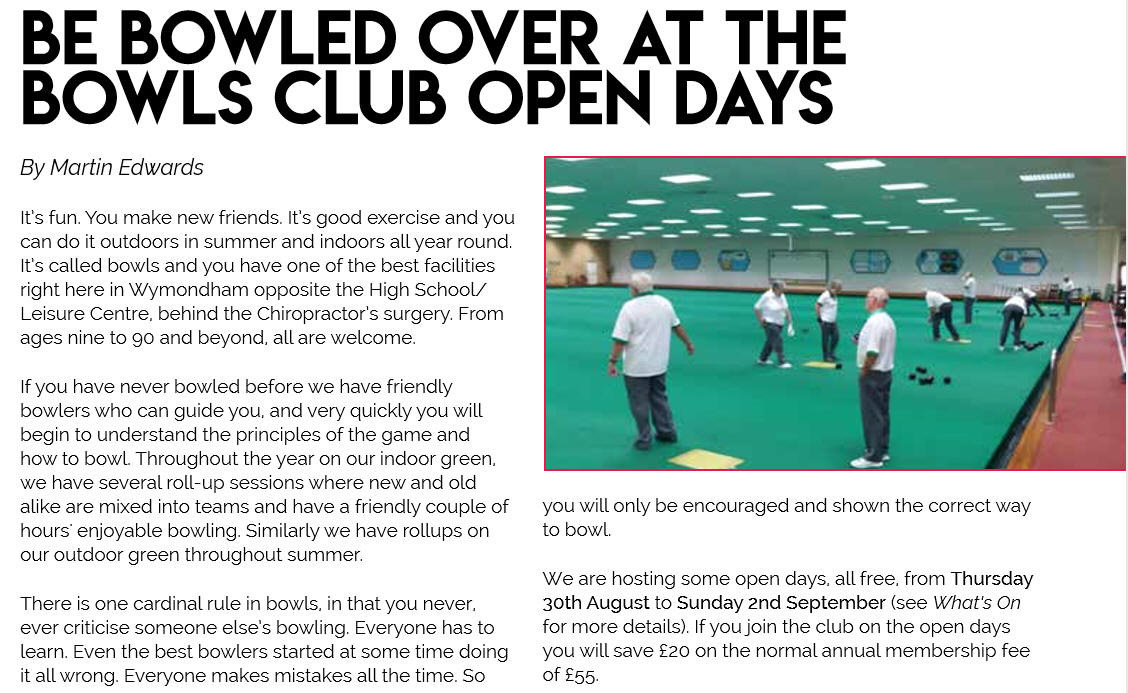 Club Handbooks

17 August 2018
Handbooks for the indoor season are available from Monday 20 August on payment of the annual subscription.
National Ladies Triples

14 August 2018
Congratulations to Suzie Groombridge, Jean Webb and Pam Baker for reaching the quarter finals representing Norfolk at the National Ladies Triples at Leamington today. Very well done!
David Allen Memorial Trophy

11 August 2018
Congratulations to the Wymondham Dell team who won the David Allen Memorial Trophy against Swaffam on Saturday at Mundford Bowls Club. This was an invitation match to the winning clubs of the Rosie Smith League (Swaffam) and the Graves Cup Trophy (Wymondham Dell).
Congratulations!

8 August 2018
Pam Baker, Jean Webb and Suzie Groombridge are off to represent Norfolk at the national finals at Leamington Spa. Their first game is on Monday 13 August at 9:30 on the Leamington greens.
Good luck to you all and very well done.
Congratulations!

31 July 2018
John Ottaway, David Naunton and John George are off to represent Norfolk in the National finals at Leamington later in August.
John, David and John won the Norfolk County Triples final last Saturday beating Wayne Wilgress' rink from the Norfolk Bowling Club.
John Ottaway was runner up in the County Singles losing 20-21 to George Tubby from Freethorpe, with both representing Norfolk in the National finals.
Good Luck to you all and very well done.
Top Team Playoffs and Winners 2018.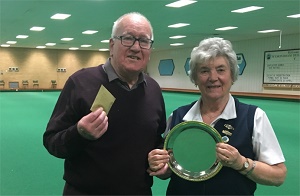 This is the 13th year of the Top Team Competition. The Top team playoffs were held on 14 April 2018 to find the winners of the Mixed Pairs, Men's Pairs and Mixed Fours. After the games the Presentations were made by Teresa Ball, Ladies President and Alan Coombe, Club President to:-
The Mixed Pairs, won by the Skylarks, Cliff Robinson's team,
The Men's Pairs, won by the Sparrows, David Carter's team, and
the Mixed fours by The Sandpipers, Kevin Tingey's team.
The overall winners of the Top Team 2018 were presented with the silver salver by David Carter to the Swifts, David Chadwick's team, received by Val Vardy. David Carter gave a big thank you to John Austin for his organisation of the top team competition.
Congratulations
The Wymondham Dell Men's 'A' team won the final Indoor County League game against Roundwood, 6:1 to secure the Division 2 Championship and promotion to Division 1, Premier league.

Well done
Peter Bailey